HISTORY OF THE SOCIETY
(Formerly the Norfolk & Norwich Genealogical Society - Founded in 1968)
The Norfolk & Norwich Genealogical Society was formed in 1968 in response to a general interest in Genealogy and Heraldry. It was more ambitious than most other Family History Societies as in addition to a Journal it also published annual hardback volumes about Norfolk Families and Parish Transcripts (the Blue Books).
As books and documents were acquired, the Library, housed initially with the founder Patrick Palgrave-Moore, outgrew his cellar and required new premises. This was the small garden room acquired in 1987 at St Giles' Street, renamed Kirby House in honour of John Kirby's financial assistance.
In 1990 The Society submitted a design for a Coat of Arms, the Grant of Arms being made in 1992 and presented in April 1993. It is on display above the entrance to Kirby Hall and inside the Library as well as forming the logo of the website and adorning The Society's Norfolk Ancestor Journal.
The Arms include gold wheat sheaves on the shield which is surmounted by a Norfolk ram. These elements represent the rural nature of the county and in particular wool which was the source of much wealth. The blue balls linked by twigs of oak represent a family tree. The Latin motto "Praeterita Scutari" translates to "Researching the past"
In 1996 the Constitution of the Society was greatly revised, becoming a Limited Company as well as a Charity, the objectives of which are stated in the Memorandum and Articles of Association. A referendum of members voted to change the name to Norfolk Family History Society (NFHS) with the aim of representing the wider interests of members researching their Norfolk ancestors..

In 1999 the former Gospel Hall opposite the church of St.Giles, Norwich was purchased, again with the generous financial assistance of Baron Kirkby of Claremont Manor, Richmond, Virginia, USA, creating an endowment fund supported by the Guilford Foundation. The new premises, named Kirby Hall, serve as the Society's Headquarters, its Library of genealogical resources and as an excellent venue for meetings.
The Norfolk Family History Society continues to publish information relating to genealogy in Norfolk as well as a quarterly journal 'The Norfolk Ancestor' which is issued free to members. Many Norfolk Parish Registers and Monumental Inscriptions held by the society have been made available on-line with the NORS project which launched in 2008. The society is a member of the Family History Federation.
A local Group of the Society operates in London. Full details of meetings, venues and programmes are given in The Norfolk Ancestor and on this website under the 'Events' menu.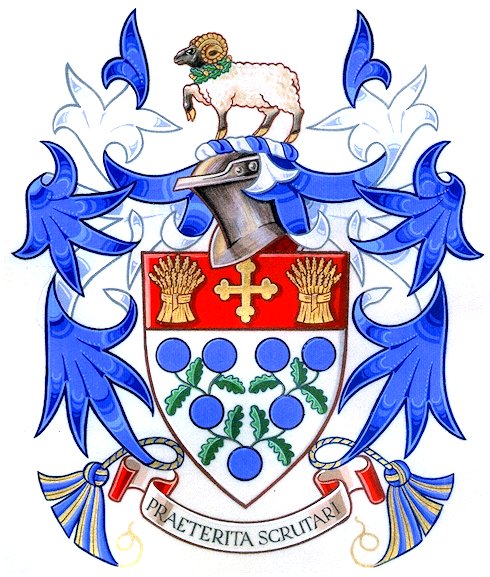 NFHS Coat of Arms