Printed Parish Transcripts at Kirby Hall
Village plus Dedication
Baptisms
Marriages
Burials
Banns
Hundred
Start your Search.
Norfolk Parish Register Transcription Project
This project began in 1994 and aimed at providing transcripts of parish church registers for Norfolk parishes the period 1813–1837. The aims were to cover all types of registers, from baptisms to burials, marriages and banns.
The project has expanded as have the range of dates being tackled by our volunteer transcribers who willingly transcribe records so that others can benefit from their works. We no longer restrict transcripts to Parish Registers but are now compiling transcripts of Cemetery records.
Originally volunteer transcribers worked at home using microfiche and microfiche to produce baptism, marriage, banns and burial transcripts. The transcripts were printed and spiral-bound into booklets. Nowadays we also make them available in electronic format, for instant searching, to visitors to Kirby Hall and to all NFHS members online via NORS (Norfolk Online Record Search), our online record viewing system.
Future
Although we have many Parish Registers transcribed for most of the Norfolk Parishes we may not yet have the full range of dates available transcribed. These dates that are not yet transcribed and for which images are available on the internet is our next target. With the availability of Parish Register images on the internet our transcribers can, and do, work anywhere in the world.
To make more transcriptions available for our members is a challenge; we are always looking for new transcribers to help improve our Parish Coverage.

Accessing the Parish Register Transcripts
In the past, transcripts were mainly available in printed format only at Kirby Hall, nowadays we have NORS (Norfolk Online Record Search) which makes our transcripts available to all our members in any part of the world 24 hours a day. For those members without a computer and unable to visit Kirby Hall we have a Lookup service.
A Note on Accuracy
We apply the usual caveat that all transcripts must only be regarded as Aids to Further Research and never assumed to be entirely accurate. Researchers using them are reminded that, in general, they have not been double-checked.
Thank you to our volunteer transcribers
We would like to say thank you to all our past and current transcribers who have done, and are doing, a wonderful job in unselfishly and steadfastly working to bring our Norfolk Records to all our members.
Last update : 2023-10-01 16:21:38
Note: Results shown on this page represent only those written and electronic documents available at Kirby Hall, Norwich.
For records available to view online please use our NORS (Norfolk Online Record Search) facility.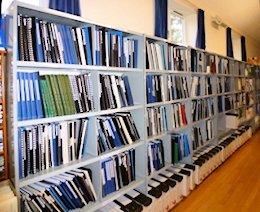 Parish Register Shelves in Library