CONTACTING THE NFHS
The Norfolk Family History Society is staffed and maintained entirely by Volunteers, who freely give their time to help others.
We ask people to be patient when contacting us.
Board of Trustees
Services
Enquiries and requests for Family Tree and Surname Information cannot be answered without inclusion of your member name & membership number.
When contacting the Society please address your communication to the relevant person (see above), include your address and email address or telephone number for replies.
Members should also include their membership number.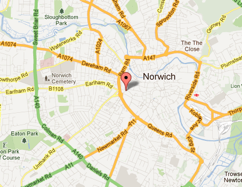 Click image for larger view
Written correspondence should be addressed to:
Norfolk Family History Society
Kirby Hall
70 St. Giles Street,
Norwich
NR2 1LS (United Kingdom)

Tel: (UK) 01603 763718
Tel: (International) 00 44 1603 763718