Family Trees
Name
Location
Start your Search.
The Society's Family Trees can be searched by Family Surname using the facility above:
NFHS holds a rich collection of Family Trees deposited by members and others. They vary widely in accuracy and ancestral information. Surnames and geographical locations listed represent only the major areas of interest .
Please note that these family trees are available to view only at Kirby Hall Library and not online.
Copies of these F.T.s may only be obtained by members of the Society, quoting membership number, name and full postal address. Postage and packing will be included with copying costs which will be invoiced on delivery. Please write to: Judith Parks, Norfolk Family History Society, at Kirby Hall or email: [email protected]
Family Tree Appeal - Submission Guidelines for your own Family Tree
F.T. compilers are not restricted to any particular format. However, we ask that members observe the following guidelines when preparing their F.T.s for submission to the Society\'s collection:
Emphasise the particular family SURNAME under which the record is to be filed plus the main geographical area, i.e.parishes.
Accuracy and originality: distinguish between entries derived from a proven source, e.g. birth/marriage/death records, wills, etc. and speculative information which should be clearly endorsed as such. Collaborative work and data relating to living persons should be approved and endorsed by the people concerned. Related pedigrees compiled by someone else may be referred to but should not be repeated.

Please send your family tree(s), quoting your membership number, name and full postal address, to: Di Vanderson c/o Norfolk Family History Society at Kirby Hall or email: [email protected],
Last update : 2021-08-08 15:29:57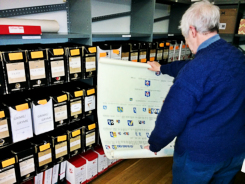 Family Tree Archives
Recent Additions :-