Family Trees
Name
Location
Start your Search.
The Society's Family Trees can be searched by Family Surname using the facility above:
NFHS holds a rich collection of Family Trees deposited by members and others. They vary widely in accuracy and ancestral information. Surnames and geographical locations listed represent only the major areas of interest .
Please note that all of these family trees are available to view at the Kirby Hall Library - the majority are also available to search and download from NORS. Some of the very large printed family trees have yet to be scanned and uploaded to NORS.
Family Tree Appeal - Submission Guidelines for your own Family Tree
Family Tree compilers are not restricted to any particular format and the Trees can be in paper copy or electronic form . However, we ask that members observe the following guidelines when preparing their Trees for submission to the Society\'s collection:
State the particular family SURNAME under which the record is to be filed plus the main geographical area, i.e.parish or parishes.
Accuracy and originality: distinguish between entries derived from a proven source, e.g. birth/marriage/death records, wills, etc. and speculative information which should be clearly endorsed as such. Collaborative work and data relating to living persons should be approved and endorsed by the people concerned. Related pedigrees compiled by someone else may be referred to but should not be repeated.

Paper Copy

:Please send your family tree(s), quoting your membership number, name and full postal address, to: Di Vanderson c/o Norfolk Family History Society at Kirby Hall or email:

[email protected]

,

Electronic

: Please send your family tree(s) preferably in GEDCOM format, quoting your membership number, name and full postal address, to: Paul White on email: look

[email protected]

, Please note that because of the current limitations of the website a GEDCOM family tree will need to be converted to a pdf for display purposes. Please indicate the primary individual on the tree on whom you would wish the tree to be based.
Last update : 2022-01-25 15:20:26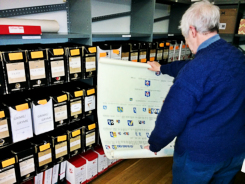 Family Tree Archives
Recent Additions :-