─ Welcome to the Norfolk Family History Society ─
Formerly the Norfolk & Norwich Genealogical Society Founded in 1968
Members : if you haven't checked your personal details recently, please do, it ensures you don't miss the latest news.
Discovering your Norfolk Ancestors .......... The Society welcomes people researching their Norfolk ancestors and family history.
Our Society

We currently have around 4,000 members from all around the world researching their Ancestors in Norfolk.
Explore the Website to see who we are and all the benefits of Society membership.


Our Records collections

The selection of records in our Kirby Hall library includes Parish Register transcripts, Monumental Inscriptions, Census returns, Wills, Family Trees, Pedigrees, Photographs, Norwich birth and death returns plus a wide range of other published material.
Our Norfolk Online Record Search (NORS) database provides Members with online access to the Society's collection of Parish Register Transcripts, Monumental Inscriptions and other useful research information. There are currently more than 4.5 million individual records already available online with more being added all the time.

Join us

Members can also share the results of their own family history or genealogical research by sharing articles in the Society's quarterly journal, The Norfolk Ancestor.
New Members are always welcome, so why not consider joining and enjoy all the benefits membership offers including

The Norfolk Ancestor Journal.
NORS online research.
Talks and meetings in Norwich, London and online, check our events page to see what's coming up.

Our membership subscription rates and joining page can be found here.

Volunteering

We are keen to grow our online resources through transcription and indexing projects, as a member you can make this growth possible by volunteering to help with these projects or by donating copies of your own family trees.





---

Visiting Kirby Hall? Please note the following:

COVID precautions - please wear a mask when visiting Kirby Hall to comply with our present Covid restrictions.

Roadworks – If arriving by car please be aware that because of the roadworks being carried out to the nearby Chapelfield roundabout there is a one-way system operating in Norwich at the moment which means you must turn right out of the Kirby Hall car park and then follow the diversion signs – the works are due to finish by the end of November.

---




A

Member

of the Family History Federation



Closes
Thursday December 9th
4:00pm
Re-Opens
Tuesday January 11th
10:00am

✨  
We would like to wish everyone a very Happy Christmas and a very healthy 2022.
 ✨


Kirby Hall Opening times

| | | |
| --- | --- | --- |
| Tuesday | 10:00am | 4:00pm |
| Wednesday | 10:00am | 4:00pm |
| Thursday | 10:00am | 4:00pm |
| 1st Sunday of each month | 10:00am | 1:00pm |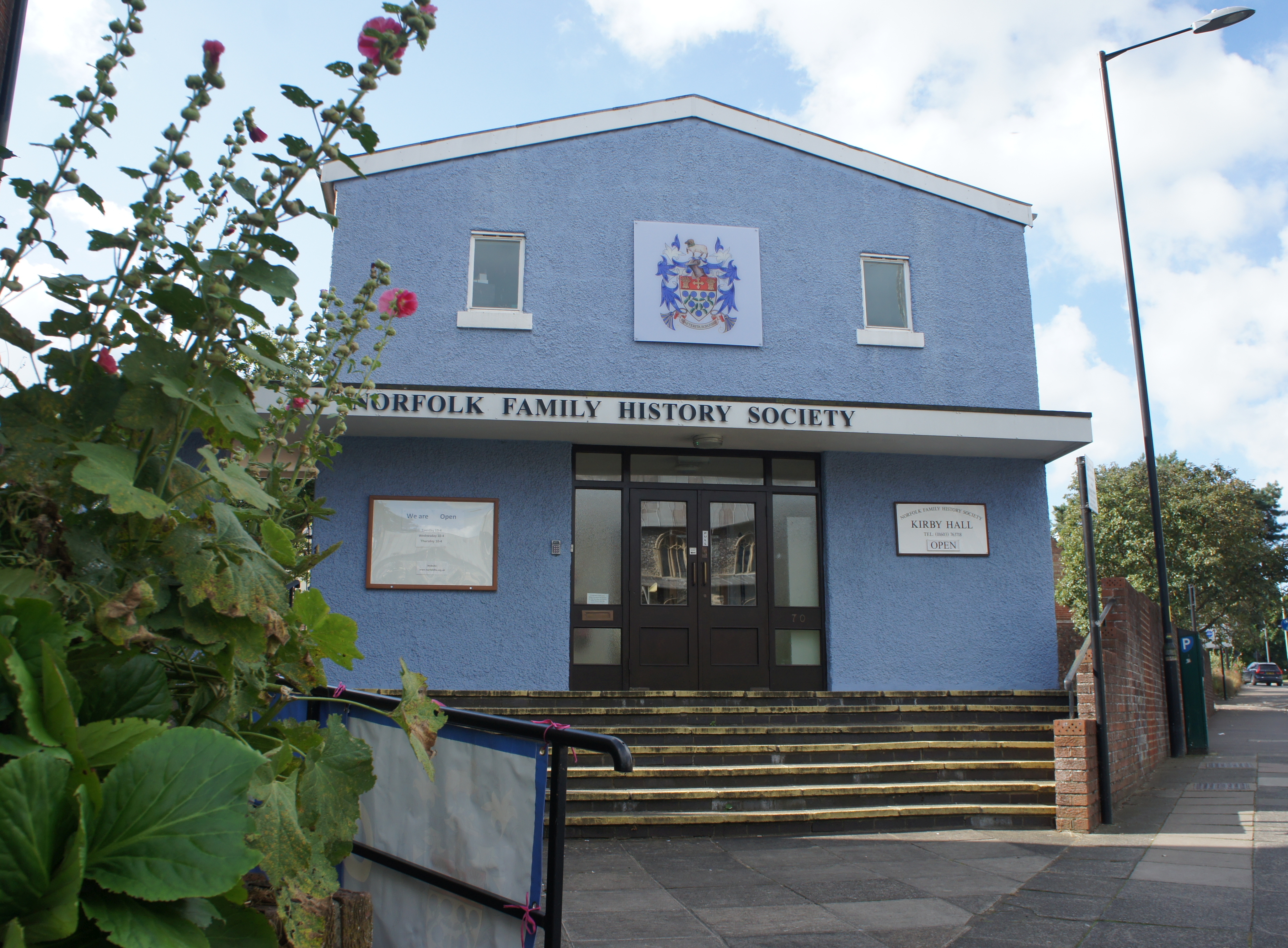 Registered Office Address
Kirby Hall
70 St Giles Street
Norwich
Norfolk
NR2 1LS (United Kingdom)
Enquiries : Refer to appropriate contact on 'Contact Us' page.
Website :
www.norfolkfhs.org.uk
Tel:
(+44) (0)1603 763 718