Welcome to the Norfolk Family History Society
Discovering your Norfolk Ancestors ..........
The Society welcomes people researching their Norfolk ancestors and family history. We currently have around 4,000 members researching their Ancestors in Norfolk, including members from as far afield as Papua New Guinea, Australia, U.S.A. and Canada.
The Society's collection of genealogical resources encompass parish register transcripts, monumental inscriptions, census returns, wills, family trees, pedigrees, photographs, Norwich birth & death returns and a wide range of published work to help trace your family's Norfolk origins.
The Norfolk Online Record Search (NORS) database provides Members with online access to the Society's collection of Parish Register Transcripts, Monumental Inscriptions and other useful research information. Please note that this is an ongoing project with new transcriptions added regularly, although many records are yet to be transcribed there are currently more than 3,900,000 individual records already available to view online.Read more about NORS here or click button below to search NORS.


Click HERE to see 'What's On NORS ? '

We are keen to encourage wider access to genealogical resources through transcription and indexing projects and Members are positively encouraged to facilitate work of the Society by volunteering to help with transcription projects or donating copies of their own family trees. Members can also share the results of their own family history or genealogical research by sharing articles in the Society's quarterly journal, The Norfolk Ancestor.
New Members are always welcome so why not consider joining the Society and enjoy the benefits membership offers, including the Norfolk Ancestor journal which is free to members.
Groups of the Society operate in South Norfolk and London. Each group organises a varied programme of talks and meetings for people to enjoy and learn more about aspects of family history research. If you are interested in attending, full details of future talks are detailed in our schedule of events.
We provide a bookstall selling material by local and national publishers specialising in family history and historical studies related to Norfolk and East Anglia. We try to offer books not generally available in bookshops. Books can be purchased online or at Kirby Hall.
Formerly the Norfolk & Norwich Genealogical Society - Founded in 1968



NFHS Website Award

A Member of

the

FFHS
Kirby Hall Opening Times
Tuesday
10.00am - 1.00pm
Wednesday
10.00am - 4.00pm
Thursday
10.00am - 4.00pm

Sundays :- 
Open First & Last Sunday each month 10.00am  - 1.00pm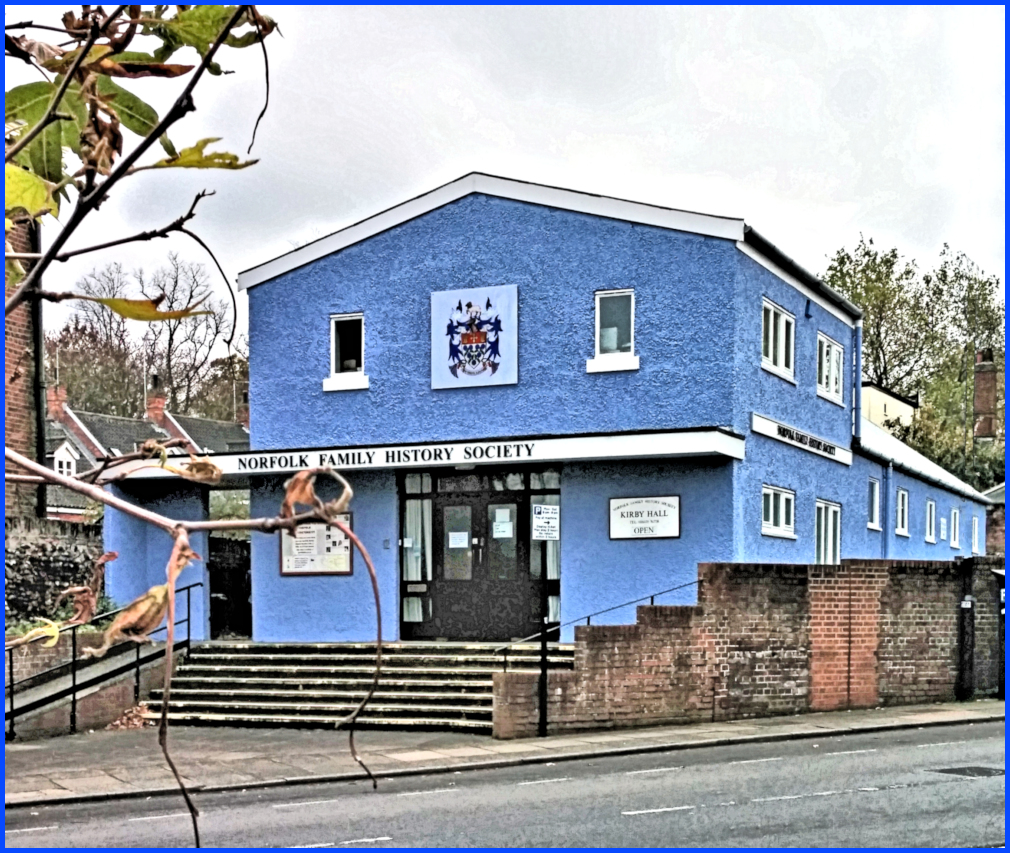 Registered Office Address
Kirby Hall
70 St Giles Street
Norwich
Norfolk
NR2 1LS (United Kingdom)
Enquiries :

Refer to appropriate contact on 'Contact Us' page.
Website : www.norfolkfhs.org.uk
Tel: (+44)   (0)1603 763 718