Norfolk Online Record Search (NORS)
User Guide
How to Search the NORS database using 'Find a Person' advanced search
Person Search: This facility is located in the menu menu on the left hand side .
This option enables searching for an ancestor based on a known Surname, it is also possible to narrow the search by entering a 'Forename' and / or 'Date Range'. Variations of a Surname can be searched by choosing 'Include variants' or by using the % wildcard.

Find a Person: Click on the 'Find a Person' link from the menu. The 'Find Person' tab will open as shown: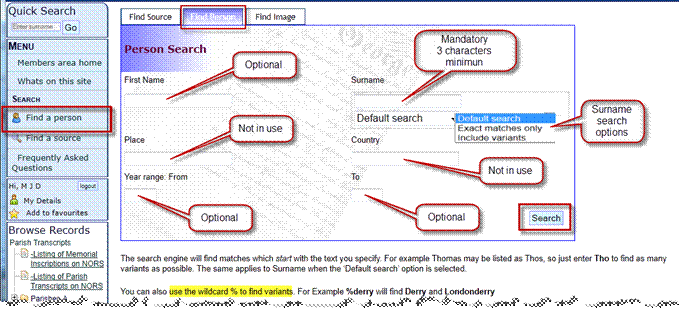 There are 6 fields but only Surname is mandatory.
Search fields are NOT case-sensitive, for example, entering 'watson' produces the same result as entering 'WATSON'. The wildcard ( % ) character may be used at the beginning or in the middle of text, for example, entering '%Will' would find 'Walter William' as well as 'William'
First Name: is optional and may be left blank. NORS searches the entire database for any forenames starting with the characters entered.
Surname: is Mandatory - A minimum of 3 alpha characters must be entered. The search will be performed against all surnames in the database, not just those of the main person entered. For example, Baptisms registers includes the child's surname (which is also typically the father's surname) and may include the mother's Maiden Name. Even though each has a different title, each is a surname and will be indexed as such for searching.

There are 3 options to expand or restrict a Surname search :-
Default search: Searches for a surname starting with the characters entered. For example, entering 'WAT' will find 'WATSON', 'WATERS', 'WATERFIELD', etc.

Exact matches only: displays only those surnames which exactly match the data entered.

Include variants: Searches for similar sounding surnames using a Soundex type function. For example, entering 'WATSON' will also find 'WATTSON' and 'WATCHAM'.

If confident that a surname is unlikley to have been mis-spelt then 'Default Search' or 'Exact Matches Only' can be selected to reduce the number of results displayed.
Place: This field is not currently used and must be ignored. It is hoped that in the future it will be possible to develop the NORS search facility to restrict searches to specific parishes or other places.
Country: This field is not used and must be ignored.
Year Range: 'From' and 'To' These two fields are Optional.
Enter both the 'From' and 'To' dates to restrict a search to a certain date range.
Entering either the 'From' or 'To' date alone will result in all records either on/after or on/before the year in question being displayed.
Finding related Marriage or Banns entries
After finding an individual in a Marriage or Banns register, it is possible to locate all related marriage or banns entries for Bride, Groom and Witnesses (in the case of marriages).
NORS search mechanism does not display the full transcript for a parish and Marriage or Banns entries are not displayed side-by-side, however, potentially related entries recorded in a parish register can be viewed by clicking the Magnifying Glass (Search)

icon to the left of the Surname of a particular entry.
Example: A marriage entry for Keomi WATERFIELD recorded on 30th April 1900 in the parish of Aylsham. A letter 'B' next to Role in Marriage indicates the role as 'Bride' (see List of Abbreviations used).
Using the Magnifying Glass

to search for related Marriages or Banns entries of same date.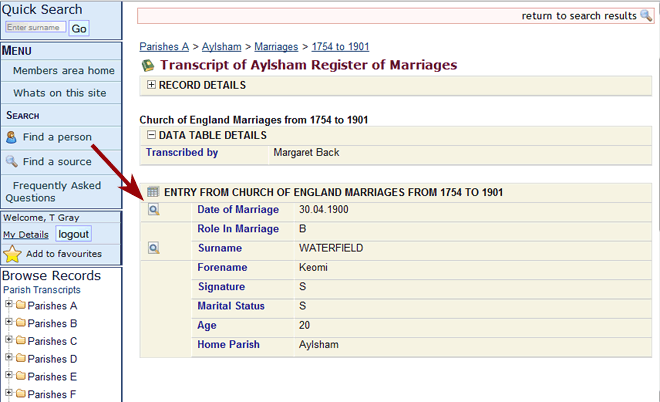 Clicking on the magnifying glass

icon next to 'Date of Marriage' will display all entries from the same parish transcript occurring on that date. (Viewed in Horizontal format).
Marriage entries matching date of 30.04.1900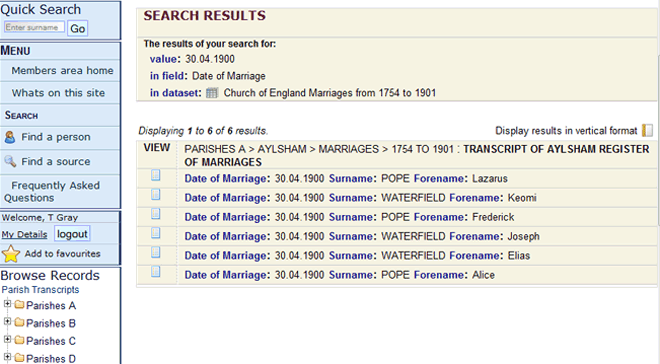 Example: In order to determine which entries may relate to Keomi WATERFIELD it is necessary to view each transcript individually and check the persons 'Role in Marriage' to ascertain whether entered as bride, groom, bride's father, groom's father or witness, etc.
The same search facility applies to each data field where a magnifying glass

appears, so clicking on the Search icon to the left of a Surname will list all other entries matching the Surname from the Parish Register currently being viewed.