Norfolk Family History Society
Volunteers Needed
'THE NORFOLK ANCESTOR'
EDITOR & SUB-EDITOR WANTED – URGENTLY
Contingency plans are in place for the March 2014 issue but we urgently need a volunteer(s) to take on the role of producing the magazine for June 2014 onwards.
The society is run entirely by volunteers, giving support to over 4,000 members.

If you would like to be part of this team and feel you have the following skills......
* Computer literate, preferably with experience of publishing or desktop programmes
* A good communicator
* An eye for detail
* Interest in the various aspects of the NFHS and family history in general
……...to express an interest or request further details, please contact:

secretary@nfhs.co.uk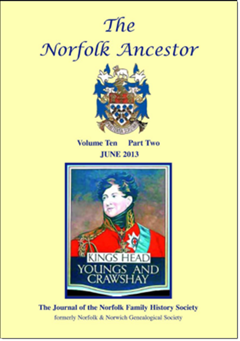 Editor & Sub-Editor Wanted